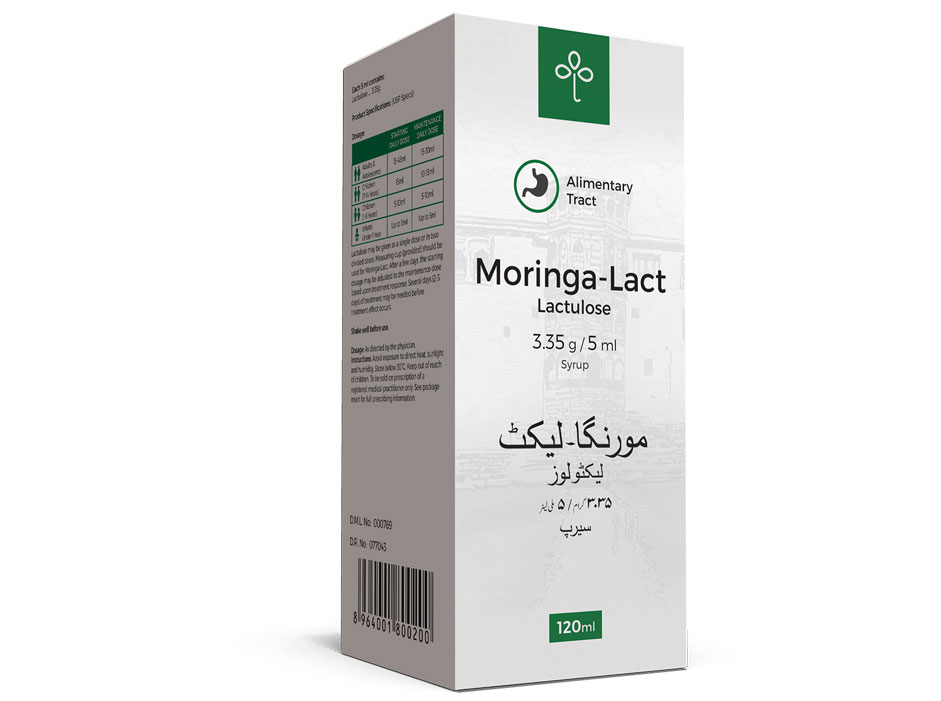 Moringa Lact
Lactulose 3.35 g / 5 ml
Constipation
 
Starting Dose Daily
Maintenance Dose Daily
Adults and adolescents
15-45 ml
15-30 ml
Children (7-14 years)
15 ml
10-15 ml
Children (1-14 years)
5-10 ml
5-10 ml
Infants under 1 year
Up to 5 ml
Up to 5 ml
Hepatic Encephalopathy
Adults
30-45 ml
Dose may be adjusted to achieve two or three soft stools each day
All dosages should be adjusted to the needs of the individual. Each dose may, if necessary, be taken water or fruit juices etc.

Rectal dose (for use in hepatic coma or impending coma in Adults)

300 mL diluted with 700 mL of water or normal saline rectally and retain for 30-60 minutes. May repeat 4 to 6 hours as needed. If the enema is evacuated too promptly, it may be repeated. Oral therapy should replace rectal as soon as possible, with the first oral dose being given before cessation of enema.

Hypersensitivity to active ingredient or any of the excipient.
Galactosaemia
Patients with rare hereditary problems of galactose intolerance, the Lapp lactase deficiency or glucose- galactose malabsorption.
In acute inflammatory bowel disease (ulcerative colitis, Crohn's disease), gastrointestinal obstruction or sub-occlusive syndromes, digestive perforation or risk of digestive perforation, painful abdominal syndromes of undetermined cause.