Clarithromycin, a semisynthetic macrolide antibiotic, which inhibits bacterial protein synthesis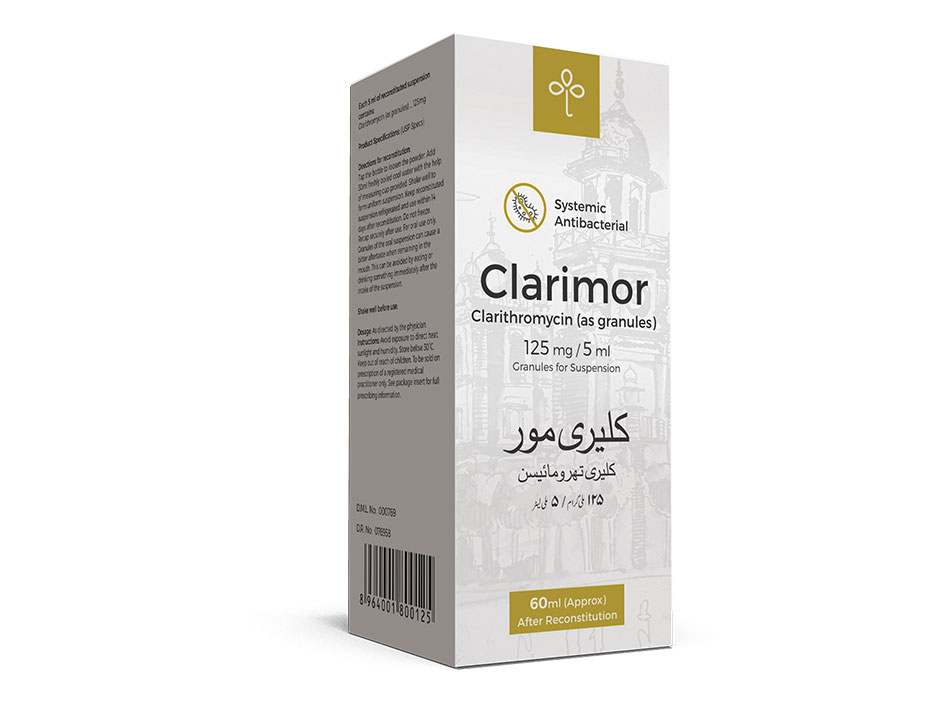 Clarimor
Clarithromycin (as granules) 125mg/5ml
Paediatric

Children 6 months to 12 years of age:

The recommended dose is 7.5mg/kg twice a day

| | | | |
| --- | --- | --- | --- |
| Weight | Age | Dosage | Duration |
| 8-11 kg | 1-2 years | 2.5 ml twice daily | 5 to 10 days |
| 12-19 kg | 2-4 years | 5.0 ml twice daily | 5 to 10 days |
| 20-29 kg | 4-8 years | 7.5 ml twice daily | 5 to 10 days |
| 30-40 kg | 8-12 years | 10.0ml twice daily | 5 to 10 days |

Children weighing less than 8 kg should be treated based on their bodyweight
Community Acquired Pneumonia effect in children under 3 years of age is not documented.
In patients with renal impairment with creatinine clearance less than 30ml /min, the dosage of clarithromycin should be halved. i.e. 7.5mg/kg once a day, and the duration of treatment should not exceed 14 days.

Tap the bottle to loosen the powder. The bottle should be filled with 25 ml preboiled cool water, then thoroughly shaken. Add another 25 ml preboiled cool water to make up the volume. The bottle should be shaken vigorously before each application.

Reconstituted suspension should be consumed within 14 days and should not be stored above 25oC. Do not refrigerate or freeze the reconstituted suspension. Keep the bottle tightly closed. Granules of the oral suspension can cause a bitter aftertaste when remaining in the mouth. This can be avoided by eating or drinking something immediately after the intake of the suspension.

Known hypersensitivity to clarithromycin, erythromycin or any of the macrolide antibiotics.
Patients with a history of cholestatic jaundice/hepatic dysfunction associated with prior use of clarithromycin.
Concomitant administration of clarithromycin and cisapride, pimozide, astemizole, terfenadine and ergotamine or dihydroergotamine is contraindicated.
Patients with history of QT prolongation (congenital or documented acquired QT prolongation) or ventricular cardiac arrhythmia, including torsades de pointes.
Concomitant administration with ticagrelor or ranolazine.
Concomitant administration with HMG-CoA reductase inhibitors that are extensively metabolized by CYP3A4 (lovastatin or simvastatin) due to the increased risk of myopathy, including rhabdomylosis. Treatment with these agents should be discontinued during clarithromycin treatment.
Patients with hypokalaemia (risk of prolongation of QT-time)
Concomitant administration of clarithromycin and colchicine in patients with renal or hepatic impairment.